October 5-8, 2017
Cliff Notes Writing Conference
The Boulder Cliff Notes Writing Conference is one of the best little writing conferences in the west taught by some of the top writers in the nation.  This year is no exception with Steven Nightingale, Rosemerry Wahtola Trommer and of course our own David Lee.  Check out the faculty page to learn more about these exceptional writers. 
Don't forget to make room reservations as soon as possible.  This is a busy and beautiful time in Boulder and rooms are limited.  Pole's Place (435-335-7422) holds rooms for the conference but you must tell Camille you are part of the conference to get a room.
You can register for the conference and pay online using PayPal here.
Application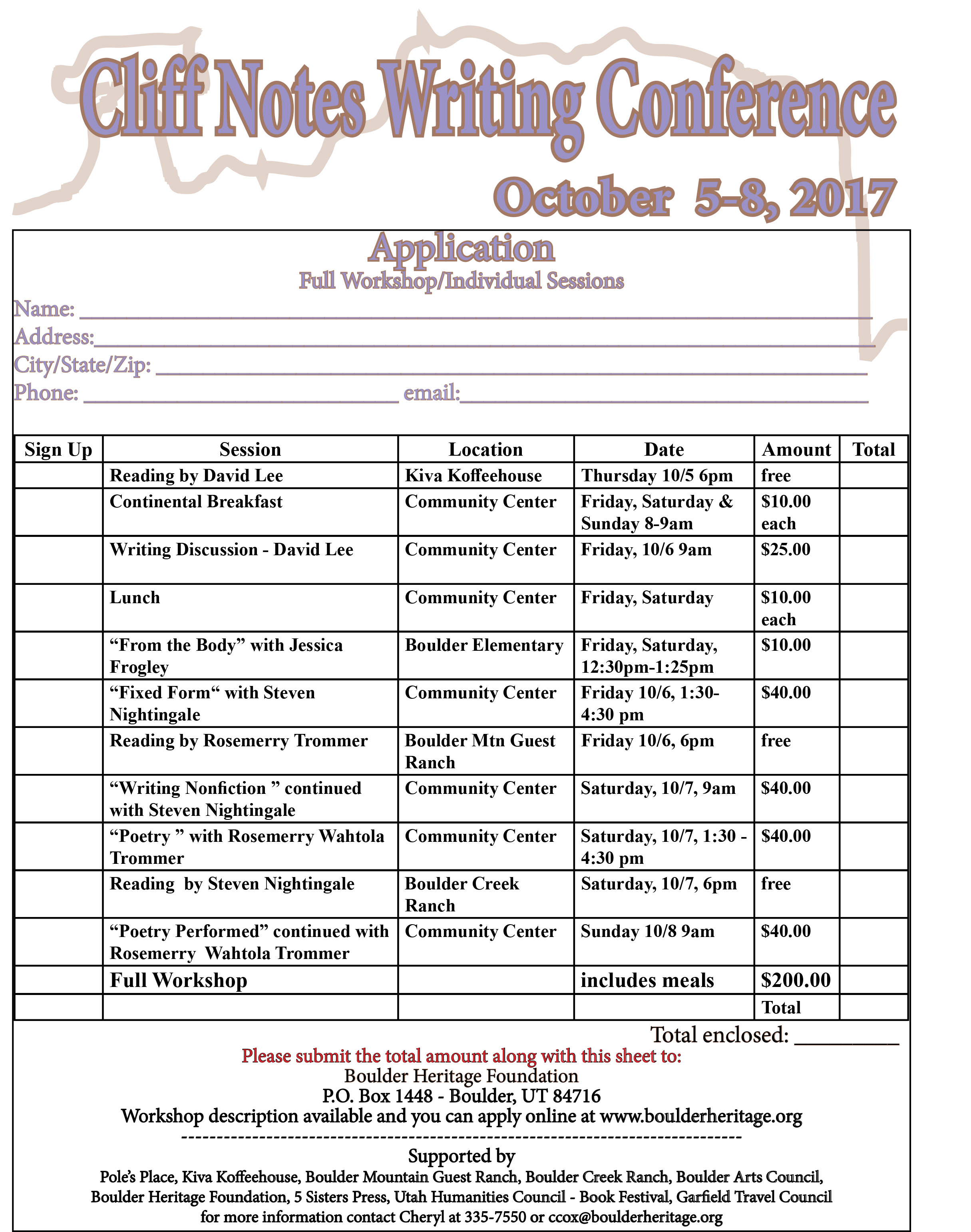 For more information contact Cheryl Cox at 435-335-7550.
The conference will be on Thursday October 5th – Sunday October 8th.  The conference will be at the Boulder Community Center (BCC) at 351 N 100 E, next to the Post Office. Other events are held at Boulder Elementary School (BES).
2017 SCHEDULE
Reading by David Lee
Thursday 10/5, 6pm at Kiva Koffeehouse
Writer's Discussion – David Lee

"Writing from the Body" with Jessica Frogley

"The Arts of Language" with Steven Nightingale

Reading by Rosemerry Wahtola Trommer

Friday 10/6, 9am to 12pm at BCC

Friday 10/6, 12:30 -1:30 pm at BES

Friday 10/6, 1:30 – 4:30 pm at BCC

Friday 10/6, 6pm Boulder Mtn Guest Ranch

"The Arts of Language 2" with Steven Nightingale

Writing the Body with Jessica Frogley

"All Eyes on You" with Rosemerry Wahtola Trommer

Reading by Steven Nightingale

Saturday 10/7, 9am to 12pm at BCC

Saturday 10/7, 12:30 to 1:30 pm at BES

Saturday 10/7, 1:30 to 4:30 pm at BCC

Saturday 10/7, 6pm at Boulder Creek Ranch

"Dancing with the Unknown" with Rosemerry Wahtola Trommer
 Sunday 10/8, 9am to 12pm at  – BCC